50th APPA Forum — Communiqué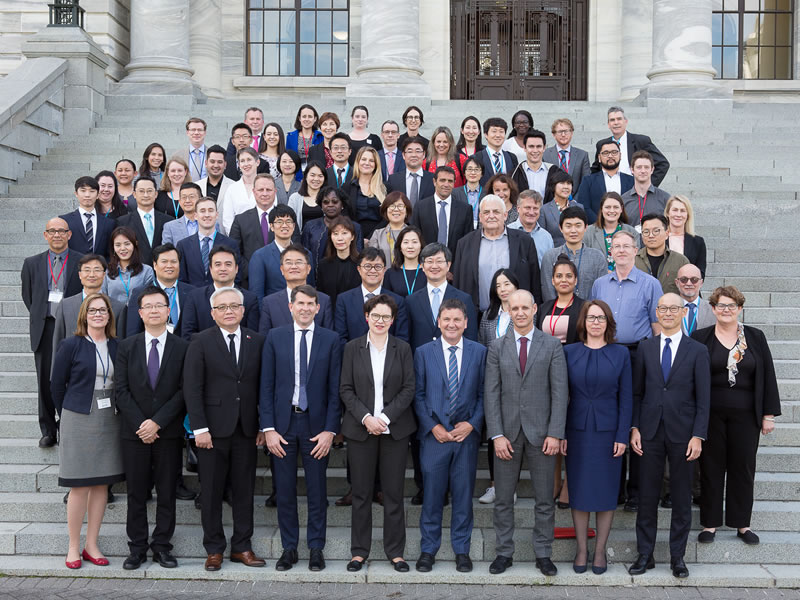 The Office of the Privacy Commissioner, New Zealand (OPC) hosted the 50th Asia Pacific Privacy Authorities (APPA) Forum on 3-4 December in Wellington, New Zealand.
Over two days, APPA members and invited guests discussed global privacy trends, exchanged domestic experiences and sought opportunities for cooperation on education and enforcement activities across the Asia Pacific Region.
The Forum was organized with the support of the five-member APPA Governance Committee and was attended by sixteen (16) APPA member authorities.
Day One (Members-only and Closed sessions)
Hon. Andrew Little, Minister of Justice opened the APPA Forum and welcomed members to Wellington, New Zealand.
The first day began with a discussion on jurisdiction reports and their common themes. These themes included enforcement, outreach and education, law reform and stakeholder engagement.
The OPC NZ presented a report on breach notification – authority systems and processes which provided a summary of the procedures in place under a voluntary or mandatory reporting regime within member authorities. Members shared insights on their significant jurisdiction developments for breach notifications. An update on OECD's efforts to promote comparability in personal data breach notification reporting was given by OPC NZ.
The Governance Committee provided an update and discussed the continuation of the Secretariat. British Columbia was confirmed as Secretariat for the next term of three years.
The Secretariat and the FTC, USA presented a report on interjurisdictional co-operation which identifies and explains multilateral or regional information sharing agreements and also considers bilateral MOUs on privacy enforcement cooperation, and statutory bases for information sharing. PPC Japan contributed to this discussion.
The Communications Working Group tabled its report on Privacy Awareness Week, continuing stocktake of member education resources and social media guidance and advised the membership of a change in the Chair of the working group. The Technology Working Group gave an update on the information repository for technology related publications and reported an increase in the number of members represented. However members that are not represented at the working group are requested to nominate representatives. The Comparative Statistics working group tabled its report. Members approved a new project to be led by the Office of the Privacy Commissioner, New Zealand to develop regional benchmarks for timeliness of complaints resolution.
The Office of the Victorian Information Commissioner presented on connected and autonomous vehicles.
Day One also included discussions on the following topics:
fair and ethical processing of data by advanced analytics and Artificial Intelligence by PCPD, HK;
information aspects of relationship between government and indigenous people in APPA member economies by OPC Canada;
decriminalisation of offences by OIPC BC, OPC NZ, and guest speaker Kylie Jackson-Cox;
developments in government data use by OAIC and OPC Canada;
ICDPPC Digital Citizens and Consumers Working Group by OPC Canada; and
privacy developments in Africa by guest speaker Lahoussine Aniss, Permanent Secretariat of the RAPDP.
APPA members shared global privacy updates and developments. These included updates on the ICDPPC, CPTPP, GPEN, RIPD, APEC, CTN and RAPDP.
The day concluded with a presentation by the host of the 51st APPA meeting:  the Personal Information Protection Commission, Japan and a group photo.
Day Two (Broader session)
Day Two consisted of two panels and several presentations.  The first panel discussed regulatory approaches to challenges of Artificial Intelligence with panelists from PCPD HK, PDPC Singapore and representatives from CIPL, Facebook and Microsoft.
Next, there was a presentation by the New Zealand Government Chief Privacy Officer and Deputy Government Statistician on the algorithmic census by the New Zealand Government.
PPC Japan presented on the current situation on mutual adequacy finding between Japan and the EU, the FTC USA presented on accountability agents, certifiers, trust marks and OPC NZ presented on their Privacy Bill.
The other panel was on children's privacy with panelists from OAIC, ICO UK, and the Israeli Law, Information and Technology Authority (ILITA).
Commissioner arrivals and departures
The meeting recognized the following appointments and departures in member authorities:
Ms. Angelene Falk was appointed as the Australian Information Commissioner and Privacy Commissioner, Australia.
Mr. Peter Shoyer was appointed as the Ombudsman and Information Commissioner for the Northern Territory, Australia replacing Brenda Monaghan.
Mr. Eduardo Javier Luna Cervantes was appointed as the Director of the National Authority of Data Protection in Peru, replacing Jose Leon.
Next meeting
The 51st APPA Forum will be hosted by the Personal Information Protection Commission, Japan on 29 and 30 May 2019 in Tokyo.
50th APPA Forum attendees
Office of the Privacy Commissioner, New Zealand (Host)
Office of the Australian Information Commissioner (OAIC)
Office of the Information and Privacy Commissioner, British Columbia (OIPC-BC)
Office of the Privacy Commissioner of Canada (OPC-Canada)
Privacy Commissioner for Personal Data, Hong Kong, China (PCPD)
Personal Information Protection Commission, Japan (PPC)
Korea Internet & Security Agency (KISA)
Personal Information Protection Commission, Korea (PIPC)
Office for Personal Data Protection, Macau SAR, China (GPDP)
National Institute for Transparency, Access to Information and Personal Data Protection, Mexico (INAI)
Office of the Ombudsman / Information Commissioner, Northern Territory
National Privacy Commission, Philippines (NPC)
Office of the Information Commissioner, Queensland (OIC-QLD)
Personal Data Protection Commission, Singapore (PDPC)
Office of the Victorian Information Commissioner (OVIC)
Federal Trade Commission, USA (FTC)
Officials from the following organizations attended the meeting as observers:
Berlin Commissioner for Data Protection and Freedom of Information
Data Processing and Liberties Commission, Burkina Faso
Privacy Protection Authority, Israel
Korea Communications Commission
Ministry of the Interior and Safety, Korea
Commission de Contrôle des Informations (CCIN), Monaco
National Commission for the Control and the Protection of Personal Data, Morocco
Office of Human Rights Proceedings, New Zealand
Yonsei University, Seoul, Korea
Information Commissioner's Office, United Kingdom
https://www.appaforum.org/wp-content/uploads/2019/08/appa-300x173.png
0
0
caorda
https://www.appaforum.org/wp-content/uploads/2019/08/appa-300x173.png
caorda
2019-08-02 11:55:01
2019-08-02 11:55:01
50th APPA Forum — Communiqué