Use of Asia Pacific Privacy Authorities Logo policy
Word Doc Printable version (106 KB)
PDF Printable version (213 KB)
Adopted by the 40th Asia Pacific Privacy Authorities Forum
November 2013
Asia Pacific Privacy Authorities
The Asia Pacific Privacy Authorities (APPA) is the principal forum for privacy authorities in the Asia Pacific Region to form partnerships and exchange ideas about privacy regulation, new technologies and the management of privacy enquiries and complaints.
More information on the APPA forum is available from the APPA website.
The APPA logo has been developed for use by the APPA Secretariat and members.
The APPA logo
There is one version of the APPA logo available.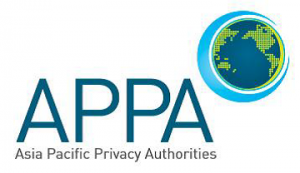 Members can access various formats by downloading the logo from the resources section of the APPA website.
Use by APPA Secretariat
The APPA Secretariat uses the APPA logo
to identify official APPA correspondence
to brand official material produced for APPA purposes.
Use by APPA members
APPA members are encouraged to use the APPA logo on their authority's website to identify the authority as an APPA member and to promote awareness of the APPA forum.
APPA participants are encouraged to use the logo as a link to the APPA website.
APPA members who are hosting meetings may use the logo in the production of meeting-related materials. These materials should be produced in consultation with the APPA Secretariat.
Use by third parties
The APPA logo may be used by third parties, when approved by the Secretariat, to describe or publicise the work of the forum.
Other uses
Permission must be sought from the Secretariat for any other proposed use, not described in this policy.